MARK WOOD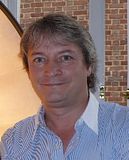 Mark Wood is a respected and successful pioneer of non‐spot and new media innovations in broadcast advertising and sponsorship. He is Co-Founder of Krempelwood, which act as agents for content producers in the field of branded content. The business started in September '08 and has already worked on projects for Sony Pictures, Universal Music, Talkback Thames, RDF, Blink, New Black Films, The Official Charts Company and UKTV.
He has unrivalled experience and contacts in broadcast sponsorship and branded entertainment.
He was formerly Head of Brands at Simon Fuller's 19 Entertainment, where he was responsible for a team that oversees sponsorship for projects including So You Think You Can Dance, David Beckham's Move to LA, Honda F1 and The Spice Girls. He was also responsible for generating briefs for content creation from some of the biggest global brands, and developing revenue generation for ground‐breaking new digital ventures.
Mark spent 13 years as Commercial Director and Head of Sponsorship for Sky TV, in charge of everything advertisers paid for that wasn't spot advertising (sponsorship, interactive, .com, advertiser funding). Mark's 'firsts' include first sponsored programme, first advertiser-funded programme, first sponsorship to win IPA Effectiveness Awards and first qualitative research into programme sponsorship.
He successfully lobbied the ITC/EU for change in UK sponsorship regulation and played a key role in the launch of 'Thinkbox', a body which promotes television advertising.
Mark formerly ran his own consultancy whose clients included Channel 4 and BBC Enterprises. He has also worked in ad sales at The Sun and British Satellite Broadcasting. He began his career as a graduate‐trainee media buyer at Benton and Bowles (despite not being a graduate!).