KAROL MARTESKO-FENSTER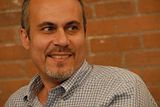 Karol's career in the motion picture, publishing, music television and Internet business spans over two decades and includes leadership in the American independent film industry.  He joined Babel Networks after providing strategic consulting services to numerous ventures, including Arts Alliance, FILMHAUS Vienna, LAVAPLANET, T5M, Tribeca Enterprises and the Workbook Project.
Previously, Karol was the General Manager of the Film Division at Palm Pictures Entertainment Properties and President of Palm's RES Media Group. During his five-year tenure he supervised the strategic re-organisation of the film division and oversaw the company's most successful theatrical releases Scratch and Sex and Lucia. While at Palm, he led all operations and brand positioning for the RES business unit, expanding its digital film festival, RESFEST, into a global touring event spanning 6 continents, 19 countries and over 40 cities worldwide.  Prior to Palm, Karol was President of Rising Tide Studios, an integrated media and convergence company and Publisher of Silicon Alley Reporter.
Karol co-founded and launched FILMMAKER Magazine, indieWIRE.com, RES Magazine, The Virtual Film Festival and CINELAN.  He produced the feature films Frank Dead Souls, Scenes from the New World and Vienna 1900 and collaborated on Wetlands Preserved and Before Sunrise.
From 1986 to 1990, he was the co-ordinating producer for Great Performances-Music on PBS and produced over twenty music television programmes and five live satellite broadcasts.  Karol was the Market Director for the breakout 1989 Independent Feature Film Market and in 1990, as Acting Executive Director of the Independent Feature Project; he restructured the nation's leading film service organisation and initiated the inaugural Gotham Awards.
Born in Vienna, Austria, Karol has lived in over 20 cities internationally and is culturally fluent in German and English. He received a B.A. from SUNY Purchase and an M.F.A. from Columbia University with a concentration in entertainment law, theatre management and film production. When he's not working, Karol enjoys travelling and spending time with his wife Julia, daughter Avalon and son Kallen.