SESSION 9. SHOW ME THE MONEY
As today's global financial markets struggle, the U.S. presidential candidates are raising over $1,000,000 a day online in sub $1,000 contributions from individuals. In other industries, companies like Prosper, Kiva and Sellaband are eliminating the middlemen and democratising fundraising as well. The secret is crowdfunding and fan participation. Through a direct connection (i.e. social networks, email, distribution outlets, blogs, house parties, twitter, chat) and a call to action, each case study is converting niche audiences into their fundraising and promotional base.
"Show Me The Money" discusses the trends, the tools and the companies pioneering DIWO (Do-It-With-Others) Funding and Filmmaking. As social networking approaches mainstream, online fundraising accelerates, the cost of production falls, and the growth of "pulled" media outpaces that of "pushed" media. It's never been a better time for independent artists to build their audiences and raise money online.
SLAVA RUBIN, Co-founder IndieGoGo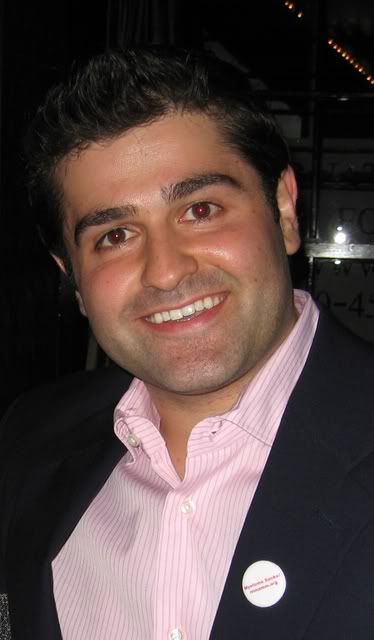 Slava Rubin co-founded IndieGoGo to help independent filmmakers overcome their fundraising challenges. Focused on bringing 'filmocracy' to the people, Slava frequently speaks at conferences and writes on the disruptive technologies impacting the media industry, from finance to distribution. Recent speaking engagements include Sundance, SXSW, Slamdance, and IFP Filmmaker, Making Media Now, DIYDAY & >Play conferences. Recent projects include producing the short, The Wonder of Seasaws. Slava also serves as an Advisor to the IFP Film Market and Film Labs. Prior to IndieGoGo, Slava was a strategy consultant working on projects from start-up go-to-market strategies to corporate execution plans. He offers expertise in audience building, marketing, and DIWO (Do-It-With-Others).
Beyond his passion for film, Slava started Music Against Myeloma, an annual charity event raising funds and awareness to fight this rare form of cancer.

DANAE RINGELMANN, Co-founder IndieGoGo



Danae is a founder and the finance chief of IndieGoGo, an online social marketplace connecting filmmakers with fans to make independent film happen. IndieGoGo provides filmmakers the tools for project funding, recruiting, and promotion, while enabling the audience to discover and connect directly with the filmmakers they support.
Danae started IndieGoGo to help independent filmmakers overcome their fundraising challenges, bringing "Filmocracy" to the people. Danae often speaks at conferences and in classrooms on Film 2.0. Recent speaking engagements include Los Angeles Film Festival, Hollywood Black Film Festival, International Documentary Association, California Lawyers for the Arts, IFP Filmmaker Labs, and various university film programs.
Danae brings entertainment industry and film finance expertise. Prior to founding IndieGoGo, Danae was a securities analyst at Cowen & Co. where she covered entertainment and video game companies including Pixar, Lions Gate, Disney, and Electronic Arts. She also focused on cable network, NFL, newspaper and hedge fund clientele while at JPMorgan's Investment Bank and Private Bank. In the wake of 9/11, Danae co-produced a concert reading of Incident at Vichy, an Arthur Miller play addressing the politically charged topic of racial profiling.
Danae is a CFA charterholder and holds an MBA from the Haas School of Business at UC Berkeley. She also received a BA from the University of North Carolina at Chapel Hill where she was a Morehead Scholar and co-captain of the Varsity Rowing Team.