Four New Power to the Pixel Events at the Cannes Film Festival
Power to the Pixel will host a series of cutting-edge events at the 62nd Cannes Film Festival.  After kicking off with a special indie panel at the UK Film Centre on 16 May, Liz Rosenthal will then present The Digital Conferences on 17, 18 and 20 May in association with the Cannes Market.These must-see talks will feature case study presentations from pioneering filmmakers Jamie King and Timo Vuorensola.   If you're not able to make it to Cannes, you can still watch videos of Jamie and Timo speaking at PTTP's Conference in London last October.  But if you will be Cannes, you'll want to make sure you don't miss any part of this up-to-the minute report from the digital frontier.  Here are the details:
Saturday 16 May, 3 – 4 pm at the UK Film Centre
Adventures in Independence: Create, Finance and Distribute Using the Latest Digital Tools
Presented by Power to the Pixel and FDMX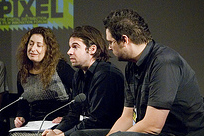 Trail-blazing filmmakers and innovators discuss their online distribution strategies demonstrating how they use the Internet and a range of new digital tools and services to connect directly with audiences to promote, sell, collaborate and finance their work. Hear in this session how to build a dynamic web presence and ways to retain a loyal fanbase. As audience behaviour evolves, what is the potential for two-way filmmaking conversations between creators and audiences?  Is a cross-media filmmaking model the way forward for the film community?
With Liz Rosenthal, Managing Director, Power to the Pixel (moderator)
Jamie King, Filmmaker, Steal This Film,  Founder  VODO
Timo Vuorensola, Filmmaker, Starwreck: In the Pirkinning, Co-Founder Wreck A Movie
Scilla Andreen, CEO and Co-Founder IndieFlix
THE DIGITAL CONFERENCES
Organised by the The Cannes Market Producer's Network and Short Film Corner in association with Power to the Pixel
Sunday 17 May, 4 – 5pm at the Short Film Corner, Palais des Festivals
Level 01 Aisle 14
Tales from the Online Frontier
With Liz Rosenthal, Director of Power to the Pixel, Producer and Digital Media Expert
Filmmakers are harnessing the Internet and new digital tools to market, distribute and finance their work in alternative new ways to the traditional theatrical-led model. Learn how feature, documentary and short filmmakers are reaching global audiences online. Presenting a variety of case studies, clips and websites, this session will reveal how filmmakers can build loyal audiences that they can take with them to finance their future projects.
Monday 18 May, 4 – 5 pm at the Short Film Corner, Palais des Festivals
Level 01 Aisle 14
A Case Study in Using P2P Networks: Steal This Film and VODO
With Jamie King, Filmmaker and Digital Innovator (UK)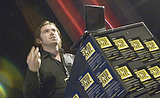 Director Jamie King describes how he used P2P networks to generate a huge audience for film series Steal This Film that documented the movement against intellectual property. The films were released via Pirate Bay for free, asking for donations from viewers and have been viewed approximately 5 million times. Jamie will talk about how he plans to release his new film Dark Fibre and his new distribution project VODO, which aims to create a frictionless way to distribute media of all kinds in the network, helping creators to be remunerated when they're distributing works online and gain attention that can rival the kind that mass media can offer.
Wednesday 20 May, 4 – 5 pm at the Short Film Corner, Palais des Festivals
Level 01 Aisle 14
A Case Study in Crowdsourcing and Collaboration: Starwreck: In the Pirkinning
With Timo Vuorensola, Filmmaker and Digital Innovator (Finland)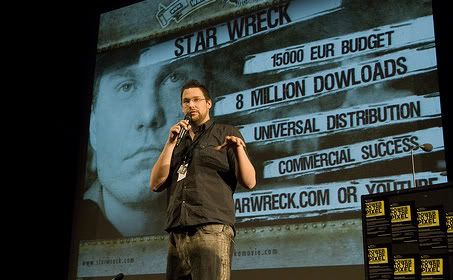 Timo Vuorensola's first feature Starwreck: In the Pirkinning is the most widely viewed Finnish film ever. The film was a huge collaborative effort made by a core group of five people in Finland and a community of about 3,000 volunteers from around the world. Through its makers and the vast community that was leveraged online during and after the making of the film, it was downloaded over 8 million times. Timo will talk about collaborative creative communities and his new site www.wreckamovie.com, which helps filmmakers crowdsource their films and is instrumental in the creation of his latest feature, Iron Sky.